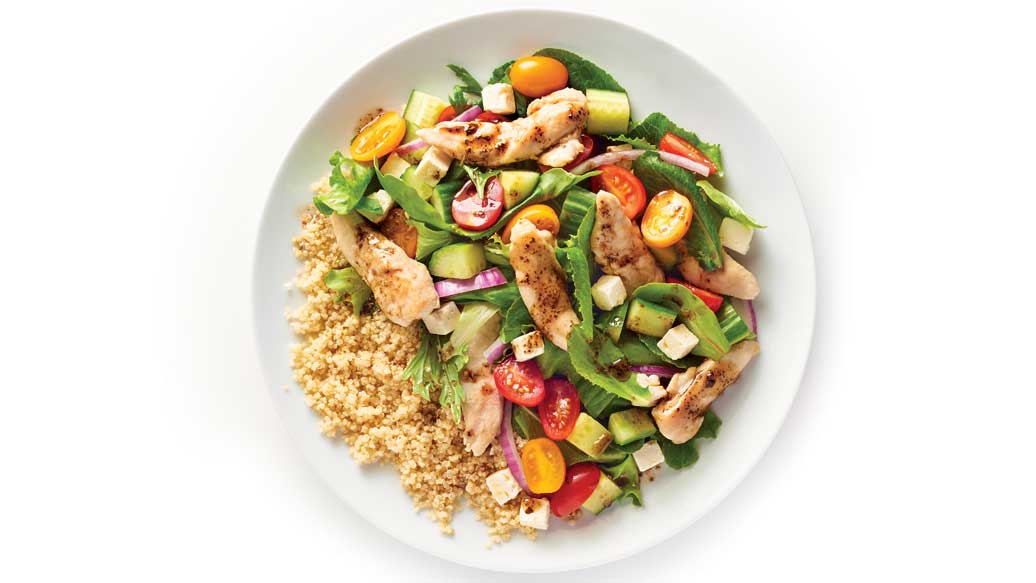 20 min
4 servings
$4.68/serving
Perfectly Balance Your Plate
This is a perfectly balanced plate. 
Ingredients
1 cup uncooked quinoa
2 cups hot water
1 lb (450 g) boneless, skinless chicken breasts
2 cups cherry tomatoes
1⁄2 English cucumber
1⁄4 small red onion
3 tbsp olive oil
1 tbsp balsamic vinegar
4 cups mixed greens
1⁄4 cup cubed feta cheese
Preparation
Rinse quinoa; place in Multipurpose Steamer and stir in hot water. Microwave on high, uncovered, until tender and water has been absorbed, 12–15 min. 
Meanwhile, slice chicken into bite-size pieces; sprinkle with sauce mix. Set aside. 
Slice tomatoes in half and cube cucumber. Thinly slice onion. 
In a Cruet, combine dressing mix with olive oil and vinegar. Shake to mix. 
Remove quinoa from microwave; divide into four bowls. 
In the same steamer (don't wash),  add chicken; cover and microwave for  3−5 min. 
Top quinoa with chicken, veggies, greens, and cheese. Drizzle with dressing and serve. 
Nutritional Information
Per serving: Calories 460, Fat 18 g (Saturated 4 g, Trans 0 g), Cholesterol 105 mg, Sodium 290 mg, Carbohydrate 29 g (Fiber 5 g, Sugars 6 g), Protein 43 g.
Tips
Make it vegetarian by swapping chicken for 4 cups chickpeas or black beans.
Take it to go! In a mason jar, layer  dressing first, then grains, protein, and veggies.